9 Low budget marketing Ideas, that costs you almost, no money
Many startup companies or small businesses face a situation where they couldn't spend money on marketing. They are not strong financially. So much so that they couldn't allocate budget to marketing. Well, marketing as you know, is a really important function. How to tackle that?
Here is the tip for you. You can do marketing with absolutely no money (might be a few bucks). All it needs is your time.
Before getting to know these marketing ideas, here is an important thing to remember. Implementation of any of these skills needs solidification of your product offering (no grey areas) and good knowledge over your target market (buyer persona). Without concreteness on your product offering or to whom you are marketing, all your efforts may go in vain.
Here are the 9 marketing ideas, where you can implement at no cost.
Join Facebook groups related to your business
Social media platforms these days became marketing powerhouses. They offer huge opportunities for marketers. But to utilize this one for free marketing, join social media groups that are related to your business.
If you think there are people closely matching your buyer persona in these groups, join them. Be active in these groups and provide help to anyone needed. For example, if you are the owner of a gym – your target should be groups of fitness enthusiasts, weight loss/weight gain groups and even join local small businesses groups. Get involved and offer help if someone is looking for a diet and as a complementary, you can suggest your Gym. Provide value through your discussions.
These groups are sources of highly qualified leads, that are close to conversion and also a great source of marketing. Even your local business community groups help you get referrals and newly popular marketing ideas.
Manage your prospect community closely
In Facebook groups or any social media groups, we have a little control. There are some rules and community guidelines to abide by which may not serve our purpose well enough. So, we create our own.
Create one such group, with the main purpose of helping your target community. Remember, the more value you provide through this group the more inclined are your target people to purchase your goods.
For example, if you own a restaurant, create a group to help cooking learners or food enthusiasts who try different food. Provide valuable guidance and allow them to help each other. As a moderator and expert in the field, you should provide invaluable suggestions to the group.
This group will not only serve as a source of highly qualified leads but also helps you understand different problems faced by these people, their interests which is a very valuable piece of information that helps to fine-tune your product offering.
You can also test your new offerings in these groups and you get valuable feedback.
Implement a referral program Word of mouth marketing is still the best way to get new customers. We are more likely to purchase when a product is recommended by someone we know. So, let's utilize this way. Implement a referral program.
This doesn't require you to spend anything upfront but you might need to cut down on your profits. There are many companies that implement this strategy.
Be creative in creating these referral programs. It should be tuned to your product, valuable to your customer (so much as he goes on to recommend) and also make sure you will be profitable in any scenario. There are companies that went bankrupt, as they simply couldn't meet promises they made.
Make cross-promotional/co-branding partnerships
Make partnerships with popular businesses around you for cross-promotions. These may include bundled offerings, cause-related offerings (conventional or unconventional), collaboration on how-to guides and even e-books.
When we are not in a situation to attract potential customers, partner with someone who has. Your partner might have a bigger reach over people who might be a match for your buyer persona.
Well, these partnerships aren't easy to make without compromises, especially with established businesses. However, the customer base you can get with the success of this program is definitely worth trying.
You can advertise your partnership on websites, brochures, payment receipts etc. You can also produce content that benefits both and reduces your workload.
Be creative and reach out for right business, your options on partnerships are endless.
Join the local business networking group and online forums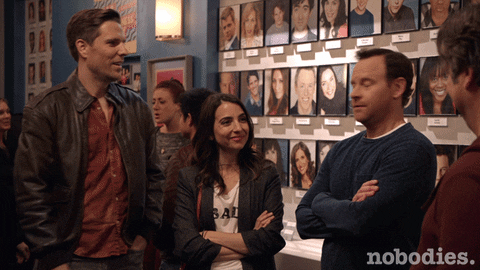 Networking is an important factor in gaining attraction in the local community, especially if you are newly established. After all, if you are a physical business and your services are local – these are your potential customers and partners. You get a chance to gain referrals, leads and potential partnerships. At the very least, your business will get noticed.
If you are selling online services and your partnerships are global, online forums are the best place for you. Join forums as an expert, same like you do Facebook groups. Unlike Facebook groups, these forums are specialised and have more quality info and better leads.
Get into business listings
Local business listings are a great source to get noticed. These places serve as a dictionary for businesses. These things will make it easy for your customers to find you. Especially, if the people are looking for a business like yours, they are more open to purchasing and you definitely don't want to miss out on them.
Check for hotspots, where the potential leads are searching for you. Make sure you are in there. Google my business, Yelp, Facebook, trip advisor, Angie's list are the most important ones.
Reviews and testimonials
When we discussed word of mouth marketing as the best one, reviews and testimonials are something that comes as close. These days most of the consumers rely on reviews every business holds on popular business listings.
Encourage your customers to provide positive reviews to your business on Maps or on Facebook. You can do this by providing an offer, printing the request on payment receipts, well…get creative.
You will be surprised to see the incoming traffic to your business because of these reviews. Testimonials can be used on websites, physical location and even on your service menu.
Attend competitions and trade shows
Attending competitions will give you a great chance to get free publicity on popular news outlets for free. If you manage to win or perform better, you will be noticed by your whole city and gives the impression that you are a champion in your industry.
No worries, if you don't win. You will still get to see different people in your industry, and a chance to know the competition right in front of you. You can take inputs and valuable information from these competitions and improve your offerings and new marketing ideas from others.
Customize your offering if needed
At times you might encounter customers whose needs cannot be matched with your offering range or service type. Do not hesitate to customize your service especially in the beginning days.
These will allow you to show your expertise in your field, find a valuable customer and even valuable review. There is a great chance the customers stick to you and provide referrals.