Why is digital marketing a must for small businesses?
On average, around half a million small businesses start every month. The number goes up to 6.5 million every year. However, only 50% of them survive five years and 30% of all businesses are likely to fail within the first 2 years. The reason?
It can be anything. The product offering was poor, the business is running out of money, it simply does not generate enough revenue, poorly planned business, outperformed by competition or poor management. But in the 21st century, it can be due to the underutilisation of digital marketing.
In Fact, for any business that is out there, a website and social media page is a must
In business, all functions and departments are deeply interconnected. Failing or poor management in one of those will lead to the downfall of the whole business. Marketing is an important function. It bridges the gap between business and customers.
Not only it communicates business offerings to potential customers, but also helps you understand who your customers are, what products should you offer, what product did your customers like, what they don't and so on! All these functions are just made easier and brought to your fingertips with the digitalisation of marketing. Especially for small businesses, the cost of deploying this is very affordable.
Here are the 6 reasons that can make you rethink if you are not utilising digital marketing
1. Your customers are spending their time online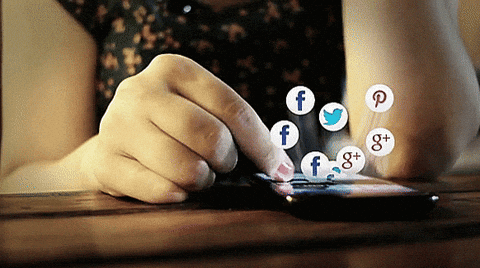 Marketing has undergone massive changes since the introduction of digital advertising. The customers are spending more and more time behind screens. With rapid internet connectivity, people are looking for options at their fingertips. Your customers look for reviews on google before finding any business, they seek advice on online forums before they buy an item, they ask google for the contact number when they have a flat tire, even they ask google about the nearest hospital when they have an emergency.
Also, People no longer seek news from TV or newspaper. Social media is their new source.
On average people spend 144 minutes on social media. That is 2 hours and 24 minutes a day!

Broadbandsearch.net
So, as a marketer, you need to move online to let your potential customers know that you exist at least!
2. You can target specifically
Businesses no longer need to show an ad to the whole city to buy lipstick, they just need to show to a few working women between 20-50 when she is already looking for lipstick options.
You can email your potential customers specifically helping them about a problem they are facing in the process of building relationships. They have a better chance of converting to customers.
You can inform people following you on social media about an event or an offer for free. However, you need to spend on ads to find new prospects.
The options are endless.
3. You have the same resources as any big company
In traditional advertising, there are certain privileges for big companies. They can buy media space in an expensive mall, they employ people to do market research, financing market studies etc.
In digital marketing, the advertising space is shared. There is equal opportunity for any businesses irrespective of their size. The resources and platforms shared are the same. It gives small businesses a great chance to market and scale their business. Well, you might not have the same financial resources, but you have to make smart decisions to offset that!
4. You can give personalised attention
Digital marketing provides you with relevant data to segment prospects based on certain traits. You can later send the message or content to each pool separately. The audience will love your brand when their problems are addressed at a personal level. Be it calling by name or addressing a problem that they are facing, you can develop a great relationship for prospects with your brand. Email marketing is a great way to develop relationships with your customer.
5. You can build a loyal community and closely manage it
Big business will have the source and means to build loyalty programs. As a small business, you can also have a community build around your brand with the help of digital marketing. Whenever required you can easily communicate with them mostly at a negligible cost. You can track who received your message, who has seen it, who interacted with it. How versatile is that ?
You can build better relationships with customers/leads by interacting with them on digital media. For example, in social media, you can post anything on your page, and whoever follows your business can see that. With email marketing, you have the opportunity to put a message in the customers' inbox. These conversations provide a great opportunity to deliver your brand message. You just need to make the most of the opportunities provided to you!
6. Analytics helps you track your performance and ROI
Almost all digital marketing channels are equipped with inbuilt analytics. With the help of them, you can track the performance of your marketing activities in real-time with the help of key performance indicators (KPI's). It also helps you track return on investment instantly.
Analytics also help you understand more about your potential customers, what they like, what they don't, where they are spending more time, what are their pain points etc. These insights help you modify your products that meet the user's needs, design a new product, understand the market and what not! You just need to spend time to understand, you can answer any marketing question that you have about your potential customer, with analytics!
Do you think I missed any other advantage that digital marketing provides for small business? Let me know in the comments